Week 84 - October Sales Review
Posted on by Angus Cheng
Normally this blog goes out on a Monday, but since the month ended on a Monday I figured it would be better to wait a day. Let's go through October's stats.
In September we brought in $46,736 HKD and this month we brought in $46,846 HKD. That's not very much growth!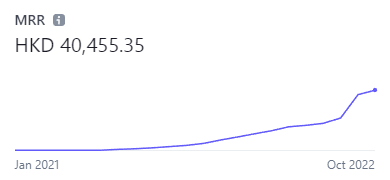 We ended October with MRR at $40,455. We ended September with MRR of $37,521.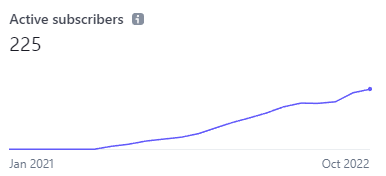 Active subscribers has gone from 212 to 225.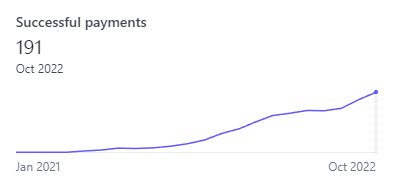 Successful payments has gone from 168 to 191. Overall I'd say our October's stats have been mostly flat.
Last Week's Goals
✅ 1. Cloud Accounting Software Research
The freelancer I hired to do the research has done a pretty good job. They've looked into Xero and Sage's documentation and processes. I did some research as well and what they've told me seems to be correct. I've asked them to research four other accounting software companies.
✅ 2. Style this Blog
If you're a regular reader of this blog you may have noticed the change.
❌ 3. YouTube Video
I didn't do it! I just didn't get around to it.
❌ 4. Fetch PDFs from your Internet Banking
This is very close to done. I used Cypress to automate navigating through the UI. The final part is to make an API call to pull down the PDFs from my internet banking. It seems possible but I just haven't gotten around to doing it.
Next Week's Goals
I'm going to be in Sydney for the next few weeks. The first week I'll be on holiday and the weeks after I'll be working. I'm going to put in an easy goal.
1. Fetch PDFs from your Internet Banking
Rolling this over from last week. I should be able to finish this up tonight, if all goes to plan.
2. Email FinTech Week People
I was at FinTech week yesterday. I met a lot of people who had Bank Statement and general PDF problems. I told everyone I met I'd send them an email.
SEE YA LATER MATE